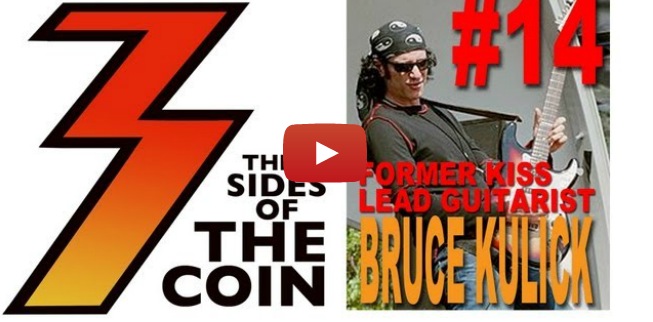 Three Sides of the Coin is a KISS podcast featuring Michael Brandvold, Mitch Lafon and Tommy Sommers.
In episode #14 we sit down with former KISS lead guitarist Bruce Kulick. Bruce discusses so much, including: Would he wear Ace's makeup? Has he ever worn Ace's makeup? Would he come back to the band? What it was like working with Bob Ezrin, Ron Nevison, Toby Wright and Paul Stanley as producers. What is his least favorite album that he played on. The Kulick Brothers… playing with his brother Bob. He gives us a teaser listen to a unreleased Revenge track Do You Wanna Touch Me.
This is only our opinion… it is neither right nor wrong.
Podcast: Play in new window | Download
Subscribe: Apple Podcasts | RSS
Three Sides Of The Coin is unofficial & unsanctioned and has no affiliation with the band KISS.
Music beds for the intro and outro of Three Sides of the Coin are provide by Bruce Kulick. Visit Bruce at his official website, Facebook page and Twitter.
Michael Brandvold launched the 5th website on the internet devoted to KISS, KISS Otaku. He went on the build, launch and maintain Kissonline.com KISS' official website. Mitch Lafon first interviewed Gene Simmons in 1980 and has since interviewed nearly all members of KISS, many more than once. He produced and released a Ace Frehley tribute CD. Tommy Sommers has been a fan since 1976 and has seen them in concert dozens of times. He spent many years on the record show circuit selling memorabilia and meeting many KISS fans.